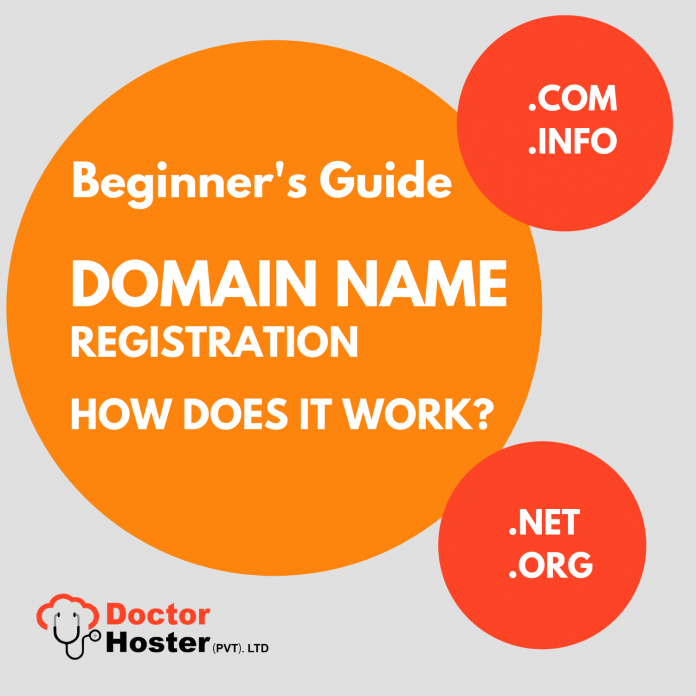 If you want to tell your friend your home address, how you will tell, you have told your house#, street#, Area name, and City name, then your friend can find your home. Similarly, if you have a website then without a domain name, you will have to tell your clients to visit your website at an IP-based URL such as 111.222.333.444.55/ instead of your website name.com, it is hard to mesmerize. To be successful on the internet web, you must invest in a domain name to ensure your website has professionalism, proper branding, and general awareness.
Domain name registration means reserving your business or blog name on the internet for a minimum one-year period. After registration of the domain name, your information publicly available.
If you want to do your business online, then you must register your domain name. It will also help your business brand name.
No, it does not matter, all domain registrars provide the same domain management features. If your domain name is available, you can buy it from anywhere, however, some domain registrar offers some discount on registration.
Who owns a domain name?
Domain name owned by any entity, organization, or person, which is also known as the registrant.
Doctorhoster.com offering free domain registration/transfer with some packages, you may get details from this link: Free domain Registration.
Can a domain name be used without registration?
You cannot get any domain name without any registrar, and it must be a unique name.
How long should I register a domain for?
The minimum duration required for domain registration is one year, but some businesses registered their domain names for 2 years minimum.
How much does it cost to register a domain name?
Every TLD (Top Level Domain) has a different price which starts from Rs. 499/- up to thousands of Rupees. For most common use TLD .com price is Rs. 1,450/- and.PK series domain price is Rs. 2,250/-
What TLD stands for?
TLD stands for top-level domain, and It is the last part of a domain name after the dot. For example TLD is .com, .org, .net, etc. There are three types of TLDs, which are as follow:
a. gTLD – Generic Top-Level Domains (for example: .com, .net, .org)
b. sTLD – Sponsored Top Level Domains (for example: .gov, .edu, .mil)
c. ccTLD – Country Code Top-Level Domains (For example: .PK, .US, .AE, .UK)
Is .gov a domain?
Yes, .gov is an sTLD (Sponsored Top-Level domain), which is specifically for government departments.
There too many gTLDs, sTLDs & ccTLDs available nowadays, below are some example and you can find more details on this link: https://doctorhoster.com/register-domain
.com – commercial business (the most common TLD)
org – organizations (typically, nonprofit)
gov – government agencies.
edu – educational institutions. net–network organizations.
How do I protect my domain name?
There are some steps to protect your company's domain name, which are following:
a. Lock the Transfer of your domain.
b. Monitor the Expiry date
c. Get similar domain names.
d. Check your administrative details.
e. Make sure communicate with your domain name registrar.
f. Beware of hackers/spammers.
Is it illegal to buy a competitor's domain name?
This is the most common domain name dispute, with some brand owners complaining that their competitor registered a domain name with little mis-spell or similar domain name to its brand.
Is domain name squatting illegally?
Buying & Selling of domain names like a real estate investment. But, domain squatting is an illegal thing, if domain squatter cannot prove a legal ownership.
How are domains stolen?
There are different tactics used by domain hackers to get personal information of domain owner then modify their registration information and transfer to another domain registrar, this is called domain name stolen.
Which domain site is best?
Doctorhoster is the best domain seller in the market and offers the lowest prices in the market.
What is the difference between a website and a domain?
A domain name is a user-friendly version of an IP address that allows users to find a website online. Every domain has a protocol, domain name, and extension.