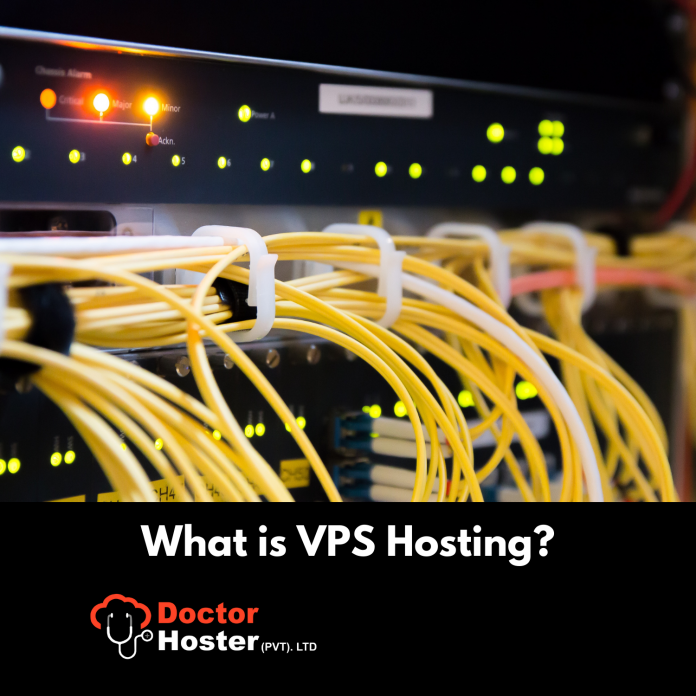 Virtual Private Server (VPS) is short for a Virtual Server. VPS Webhosting is one of the most common Webhosting services, which you can select for your website. It utilizes virtualization technology to give you dedicated resources on a server with some other users. It is a more safe and stable solution than shared Webhosting, where you do not receive a dedicated server space. But it is low-scale and more affordable than renting a whole dedicated server. VPS Webhosting is normally taken by website owners who have medium-level visitor traffic that passes the limits of shared Webhosting packages but still does not require the resources of a dedicated server. VPS solutions normally allow more than one Webhosting plan. For example, at DoctorHoster, we have three VPS plans to accommodate various business requirements and let you scale up your website seamlessly when you require higher resources.
How does Virtual Private Server (VPS) hosting work?
A VPS server is a system on which your Webhost stores the databases and files required for your website. Whenever an online user needs to reach your website, their browser transmits a request to your server, and it assigns the required files by the internet. VPS Webhosting gives you a virtual private server that assumes a physical server, but the system is shared between different users. Utilizing virtualization technology, your Webhosting provider installs a virtual overlay on top of the OS (Operating system) of the server. This layer separates the server into different partitions and enables every user to install their Operating System (OS) and different software as required. Hence, a virtual private server (VPS) is behaving like virtual and private both because you have full control. It is segregated from other server users on the Operating System (OS) level. VPS (Virtual Private Server) technology is related to designing partitions on your system when you need to run more than one Operating System (OS) for example Linux or Windows without a restart. Running a Virtual Private System (VPS) lets you set up your web within a safe environment with promised resources such as disk space, RAM, CUP Cores, etc. you do not have to deal with other VPS users. With Virtual Private Server (VPS) Webhosting, you have the equivalent root-level access like you had a dedicated server, but at a lower cost.
How do you Distinguish between VPS to other Webhosting types?
Different models of Webhosting provide you to perform various levels of customization on your server. They differ in performance, pricing, and the availability of the service like uptime as well.
What is a Virtual Private Server (VPS) used for?
A VPS (Virtual Private Server), is a virtual OS (Operating System) that stays within an original server and utilizes virtualization technology to provide dedicated resources to other VPS (Virtual Private Servers).
Do I need VPS (Virtual Private Server) Webhosting?
If you are a newcomer just beginning a WordPress blog, then there is no requirement to obtain VPS Webhosting. A shared Webhosting package will give you all the necessary resources which you want to get started. Shared Webhosting packages are very budget-friendly and do not need a lot of special skills to get started with.
What are the advantages of VPS Webhosting?
There are seven main advantages of VPS Webhosting, which are as below:
Enhanced Reliability.
Dedicated System Resources.
Improved Efficiency
Enhanced Performance.
Scale Resources Immediately.
Fully Controlled Services. Save Cost & Grow.
How does a Virtual Private Server (VPS) work?
A VPS (Virtual Private Server) is a virtual server running within a dedicated server. One dedicated server hosts many VPS, each separated from the other users. Each VPS (Virtual Private Server) runs its OS (Operating System) independently of the others.
How much cost the VPS?
We are offering three VPS packages now, which are as following:
There are some resource differences in each package, each package has high resources from the previous package. VPS-1 Package start from Rs. 1,950 (USD 12.64) per Month, you may view the prices and resources of each VPS from this link.
Who can use VPS (Virtual Private Server)?
When your website passes the structural and resource ends of your shared Webhosting or reseller Webhosting. When you require to install custom applications or modules that are not maintained by your shared Webhost, and when you need root access to the server. At this stage, you need VPS.
When should I change to VPS Webhosting?
Over time, your website ranked in Google or you are using google ads to bring visitors to your site, so at this stage, your website traffic increases and you need more security, better reliability, more control, etc. at this point you may move to VPS.
Is VPS (Virtual Private Server) faster than shared Webhosting?
A VPS Webhosting plan is essentially always going to be better and faster than a shared Webhosting plan totally because your clients or visitors do not have to queue up with other Websites' visitors to get access to your website. If your website is comparatively small, a shared Webhosting package will perfectly accurate for you.
What is the difference between VPS hosting & dedicated servers?
In short, dedicated hosting gives your server, which uses by you including all his available resources, but in the case of VPS, it is a virtual shared server, where you will host your website with some other users.
What is the difference between VPS and Cloud Webhosting?
The important difference between Cloud Webhosting and VPS hosting is that rather than having an individual server that is dedicated to your website (as in the case with Virtual Private Server), the resources are divided out amongst a bunch of many physical computers.
What are the advantages of a VPS?
With VPS (Virtual Private Servers), you feel the more reliable performance and more powerful processing power because your server is untouched by other users. Great-performing websites rank above on search engines, increase visitor engagement, and affect conversion rates.
Is VPS (Virtual Private Server) safe?
As the Virtual Private Server (VPS) is fully secured from security vulnerabilities of any other 'non-virtual server. That means that a Virtual Private Server (VPS) is no longer or less secure than running a dedicated server.
Why is VPS (Virtual private server) so expensive?
The big SSD hard disk storage requirement is the most important contributing element to the cost of a Windows VPS or Linux VPS. it requires more RAM, and therefore, you require to deploy a VPS (Virtual Private Server) with more RAM than a Linux/Windows shared hosting.
Can I host a website on VPS?
In VPS (Virtual Private Server) you can easily host your website on the internet. Within a VPS Webhosting, files of several different webs are present though every set of files are placed in a separate VPS environment, which enables website owners to experience the advantages of dedicated resources at the lowest price.
What is better Cloud or VPS?
With its excellent scalability and unlimited resources, cloud Webhosting is more costly than VPS Webhosting. It is still great value for money, but, and generally much affordable than a dedicated server. Monthly prices for cloud Webhosting are less than VPS Webhosting because of the scalability benefits.
Is VPS (Virtual Private Server) a dedicated server?
The VPS is a virtual server and it behaves like a dedicated server because it creates a dedicated server environment but it is not a dedicated server.
Why is VPS better than shared Webhosting?
With VPS Webhosting you will still be sharing one dedicated server, but each user gets a particularized set of resources, it is mean that other websites are also on the same server which would not affect you, unlike with shared Webhosting. VPS Webhosting gives a dedicated virtual space for each user, making sure sources are always available to you.
What is the difference between VPN and VPS?
VPS Webhosting is a service that enables you to host your website on a virtual environment server, while a VPN is a tool that lets you scan the web securely and safely. They both serve with totally different requirements, although as a user you can rely upon both services.
What is Linux VPS Webhosting?
Linux VPS Webhosting running on a Linux operating system.
Why is DoctorHoster so cheap?
Because they have their data center & hardware which reduces their cost when compared to other hosting companies.
How many websites easily host on a VPS?
There are no limitations on the number of websites/domains you can create on VPS. You can host any number of websites as per resources and space available in VPS.